When I woke up this morning it was 3 degrees in Colorado.  With that said it got me thinking about fireplaces (go figure).  Mine needs a fireplace makeover with it's dated 6×6 white ceramic tile and big fat mortar lines (ugh).  It sticks out like a sore thumb, good thing I'm not selling anytime soon.
The following will show fireplace pictures ranging from contemporary fireplaces to fully assembled fireplace surround kits, paint and mantle ideas.
Fireplaces are an architectural focal point, and a super selling feature when it comes time to sell your home.  In October 2013, homebuyers said they would pay up to $1400 more for a house with a fireplace.  Images of snuggling up with their mobile device, and their honey enjoying the added warmth of a crackling fire and the ambiance is pure luxury.
Large in size, the fireplace if done right can be the star of the room.  Attention to small and large details when selling or designing your home is important as the fireplace is the first thing that someone sees upon entering the room.  Not to mention that seating is typically placed around the fireplace, to take advantage of the fireplace view.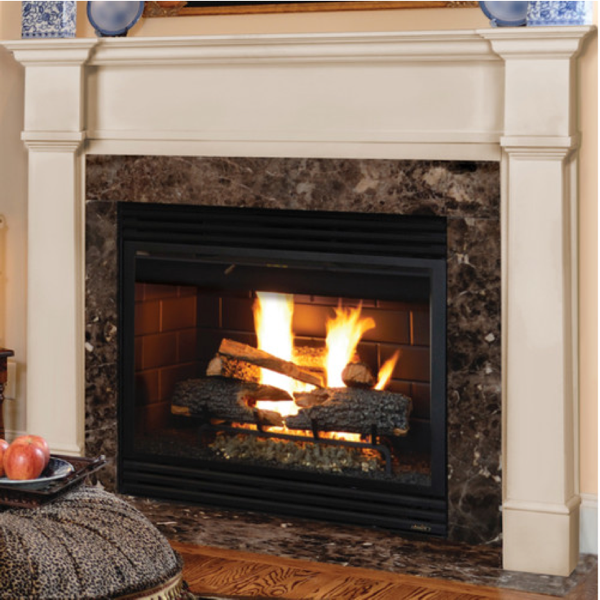 What home buyers don't want is an outdated, badly designed fireplace.  Following I will share 4 fireplace makeover ideas to make your fireplace zizzling haute.
Fireplace Makeover 4 Ideas:
A brick fireplace is as easy as a fresh coat of paint.  Painted fireplace ideas are a quick and cheap way to redo a fireplace to enhance a room. Prep work includes a wire brush to remove soot and grime off the hearth surface. Stain-blocking primer to help cover soot stains. Two coats of paint to cover the porous brick surface. Special heat-resistant paint if painting the firebox.
Faux stone fireplace is another cost effective fireplace renovation. Faux stone has the same look, feel and durability of real stone – minus the high costs or installation hassels. Its 75 percent lighter than natural stone. Sometimes demo of the existing fireplace surround, with a layer or two of building paper, covered by galvanized wire lath will be required. Other products can be applied directly to substrate including brick, ceramic tile, stone, stucco or concrete block. Make sure the faux stone and adhesive are safe for use around wood stoves and fireplaces. Check your local and state building codes to ensure your fireplace design meets requirements.
3.  A fireplace remodel wouldn't be complete without the crowning jewel a well-proportioned fireplace mantel. DIY fireplace mantel idea includes building your own or, using a fully assembled mantel (like the one above).  Mantel styles range from traditional to modern.
4.  There may be nothing wrong with your fireplace – it may be just not special. You can give your fireplace visual interest and height by adding an overmantel, that extends from your mantel upward to the ceiling and adding a crown moulding at the top.  Adding a decorative mirror or large scale piece of art will also make a design statement that gives your fireplace more importance.
Top three images are fireplace surround kits, made to order fireplace surrounds that are surprisingly inexpensive.  Click on any of the photos to get the look they are linked directly to the supplier!  One of the least expensive ways that I know of to get a fireplace update, check it out.