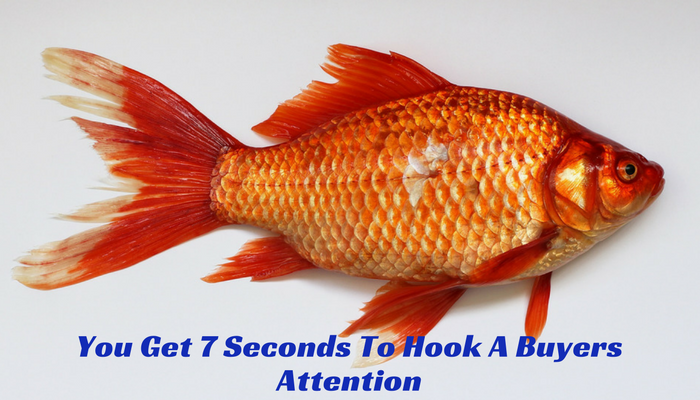 Microsoft did a recent study that shows humans now have attention spans shorter than a goldfish (goldfish 9/humans 6-8)
People prefer fast food delivery, videos in less than two minutes, a good laugh in 140 characters or less, and prefer articles in bulleted format.
What does that mean when selling your home? You have less time to engage a prospect's curiosity.  So, saddle up cowboys and cowgirls, you get 7 seconds to hook a buyers attention online, try the use of home staging bait to hook those home buyers.
Home buyers are uber-connected online and 9 out of 10 home buyers use the internet as one of their primary home resources, and 52 percent of those shoppers start fishing online.
I usually tell my clients that home staging is an essential and irreplaceable marketing tool for marketing a home on the internet and their home is the bait that captures a buyer's attention. 70% of home shoppers use YouTube alone, to tour houses for sale. Video and virtual tours are popular for marketing a home for sale and with a staged home, you can create targeted merchandising strategies to attract specific buyer groups.
36% of new home buyers use mobile and TV simultaneously, home staging techniques assist buyers as they skim a website during the first moments of their visit in order to assess whether they have what they are looking for. If a home for sale passes and piques their interest during their initial skimming, they are more likely to explore longer, more thoroughly and make a call to a real estate professional. Meanwhile, if a home for sale doesn't capture a user's attention  they are likely to leave within the first moments of their visit
Online research of homes for sale happen at work, at home, at restaurants, while waiting in line, and while with family and friends, providing the opportunity for input and many eyes on a home for sale.  Staged homes gain buyer confidence by creatively marketing a home to minimize weaknesses, creating dream homes that buyers fall in love with and boost the professional perceptions of the real estate pro marketing the home.
Whether home buyers are purchasing a home of their own, want a larger home, job-related move, changes in family status,  affordability, desire proximity to family/friends/relatives, want a better location, retire or downsize, home staging has the advantage of outshining the competition.  A home staging professional has their pulse on market trends that benefit spaces to attract consumer buyers across multiple market segments.
First-time buyers, new and existing home buyers and senior shoppers all turn to the web while researching homes to buy.  The good or bad online experiences increasingly influence their home buying decisions.  
Home buyers rely on real estate pros and open houses to bring their online searches and dream homes into reality.  Yes, even in a hot seller's market, sellers who stage their home hold more cards in their hand and put more money in their pockets faster than other homes in the same price range that have not properly prepared their home for sale.
Do the homes that you market online capture a buyer's interest?  The marketing that you do has a lot of work to do in a short amount of time.  Home staging will leverage your position against competing properties, new home sales and simplifying the home shopping experience by winning a customer's attention and once again, remove distractions and unworthy elements to view.
If you enjoyed this post, I'd be grateful if you helped spread the word by emailing it to a friend or sharing on Twitter or Facebook. Happy home selling!-Johanna