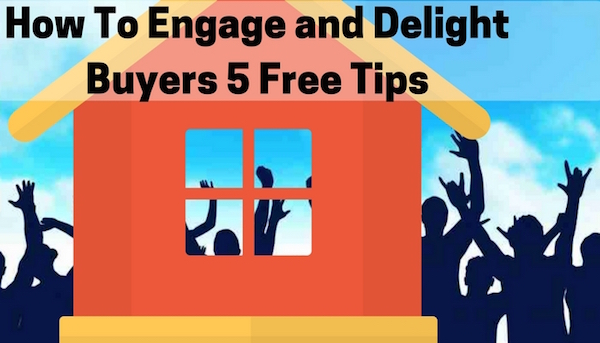 We all know that the Real Estate Market is hot in Colorado, in February there were only 3,878 units of single family homes and condos on the market. The home down the street had multiple offers, the neighbors sold their home for $10,000 more than listed for, and it was under contract in less than 48 hours. Yet other homes may sit on the market with no buyer interest.
What's up with that?
So, here's the low-down on How To Engage and Delight Buyers 5 Free Tips that home sellers should know prior to putting that "for sale" sign in your front yard.
#1 We can sell no matter what
If a home is priced too high, even in a seller's market, you run the risk of the listing sitting on the market unsold, even in a hot seller's market.
Pricing is just one of many possible reasons a home may not have sold.
#2 Any home improvements that I make will raise the sales price
Too many improvements or sometimes over-improvements may be a waste of money.  Style and taste are a matter of personal opinion and might not appeal to the broadest range of potential buyers.
Sometimes it's the little things that make the biggest impact.  Simple things like sprucing up the kitchen or just updating tired appliances, instead of remodeling.  It could be as simple as rearranging furniture into a pleasing seating arrangement that capitalizes on architectural attributes, hanging artwork properly, or a bit of front-yard landscaping, (to boost curb appeal).  Sometimes but not always, it's the simple things that make a big difference.
#3  I can sell my house "as is" buyers can do what they want with it
You may think that your house is market ready, but when it's all said and done you may be overlooking necessary changes that could boost your bottom line and the marketing appeal.  Knowing what home improvement (if any) that will get you the best return on investment, along with properly marketing your home to appeal to prospective buyers is key.
There are very few folks who have the imagination to see anything beyond what's in front of them. It takes a lot of mental energy for a buyer to visualize how to fix up a home " more often than not they don't want to be bothered, or don't have the natural abilities, instincts, or extra cash to get a home in the shape they desire to live in, so they move on.  It's only good marketing to show buyers value when they are looking for a home to purchase.
#4  I can use the camera on my phone for the listing photos
You've heard the old adage that a picture is worth a thousand words, right?  You only have but moments to capture a buyer's attention when they are previewing a home online.  The photos that you present are like the lure that snags a fish.  The photos that appear online are the driving force to capturing buyers to come and view a home in person.  What you save money for great photos won't amount to anything, if you don't sell your home.
Oh and don't forget… you want the pictures of your home for sale to emotionally resonate (oohs and wows), it's that feeling you get when you walk into a model home.
Compare that instead to the dull and boring sameness found in the bulk of suburban developments.
Not every home for sale can be a model home, yet every design should be an attempt to stir the senses.
#5   Minor repairs can wait until later.
The truth of the matter is that the minor repairs make your home for sale more marketable, it allows you to maximize your return on investment (or minimize potential loss) when you sell.
Home buyers prefer an inviting home move-in ready home to buy.  Buyers who are willing to take on the repairs after moving in automatically subtract the cost of needed fix-ups from the price they offer (lower offers). You save nothing by putting off these items, and you may likely slow the sale of your home.
Imagine you use these tips and few home staging strategies for a better rate of return when you're getting ready to sell your home. You know it works, you have seen it on HGTV in home shows like Designed To Sell and the National Association of Realtors highly recommends home sellers stage their homes prior to pictures.  you get your first enthusiastic, home buyer who is delighted to pay top dollar. You now have new money in the bank.
What would that mean?
Would you be more confident in your abilities or that of a home staging pro to help with all the small details?
Would you be more motivated to earn more and use it to pay off debt, increase your savings, or take an extravagant vacation or even buy a bigger house?  
Remember, home staging is always less than you first price reduction.  Don't hesitate to call me for a no obligation, free quote.