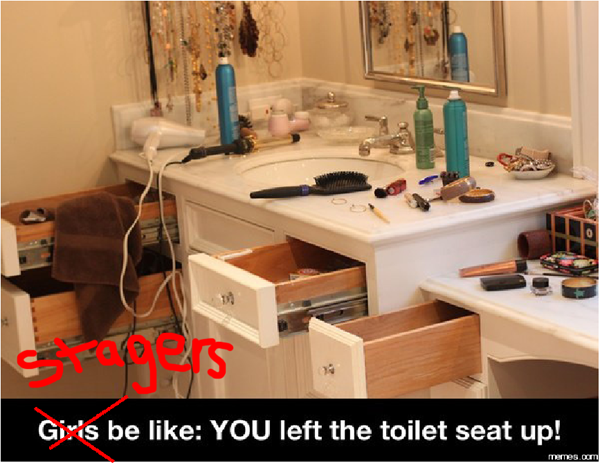 A list of the top 10 bathroom mistakes when selling your home and the easy, inexpensive solutions that homesellers can use to create good marketing appeal and update your bathroom into a spa like retreat.  Don't fret, I'm here to help, let's get going and I'll share some tips that will get you on your way.
1.  Not removing hard water build up and soap scum from glass on the shower doors, mirrors and tile.
Solution:  Use full strength vinegar to cut through the film, allowing to sit without drying for 5 minutes.  The streaks will literally melt down the drain.
2.  Personal care items left on the tub surround, sink and back of toilet.
Solution:  Store personal care items under the sink or in a closet.  Get rid of duplicate items and stick with the minimum personal care items during the sales process
Bonus:  This photo – paint, update cabinets, counter, hardware and fixtures if budget allows.
3.  Carpet in the bathroom!  A big no, no!  It's disgusting, let's just keep it at that or I will sound like I'm on a soap box.
Solution:  Best flooring options include:  tile, vinyl, cork, bamboo and wood laminates.  It's a little bit iffy on the wood laminate for the simple fact of avoiding water damage (get's pretty darn wet in a bathroom)
4.  Poor layout (check out that door)
Solution:  I'm thinking (correct me if I'm wrong) the hinges could be on the opposite side of the door.
5.  Yucky caulking.
Solution:  Replace old caulking.  If someone does it for you it will cost anywhere from $150-$250 wow!  But it is really easy to do yourself.  Caulk only cost $6-$10.  Check out this video on how to caulk a bathtub.  If your caulking has mold and mildew, you can check out this article I wrote.
6.  Toilet seat up!
Solution:  Toilet seat down!
7.  Potty chairs, waste cans, step up stools and those pesky shelving that wraps around the toilet.
Solution:  Remove!  Home buyers prefer open, spacious areas.  Bathrooms are cramped enough as it is without adding extra stuff.
8.  Original builder light fixtures.
Solution:  If budget allows and new and competing homes in the same price range have updated lighting, well….it's time for you to update or your home will move further down the home buying list.
9.  Woden or decorative toilet seats
Solution:  Go with the plain jane toilet seat.
10.  Toilet seat, tank cover and doilies
Solution:  No toilet seat, tank cover or doilie
Bonus:  When consulting I usually recommend storing wastecans, cleaning products and plungers.  No one really wants to think about those kind of things when viewing one of the most expensive purchases they will usually make in their life.  Just saying!