PHOTO COURTESY RIGVA.CO
Learn how to update the bathroom to a spa like retreat, usng fresh, contemporary sytles and soft colors that provides a feeling that restores, rejuvenates, and heals spirits.
Knowing how to update the bathroom to a spa like retreat, may be as simpe as painting walls soft tints of off-white or light gray colors.  Painting with Benjamin Moore paint colors in:
Walls: Aura® Matte 522 in feather gray (2127-60) Trim: Aura Semi-Gloss 528 in wedding veil (2125-70), are calming colors in the bath.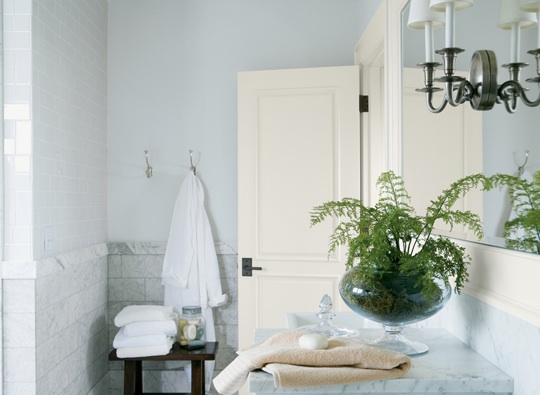 PHOTO COURTESY WWW. BENJAMINMOORE.COM
Trim: Aura Semi-Gloss 528 in wedding veil (2125-70), are calming colors in the bath.
Home fixtures are trending in chrome, on lighting and faucets.
Modernize flooring with trends that show bleached hardwood, off-white tile, creamy slabs of granite, limestone and marble.  Quartz is the new countertop of choice, and creates a subdued and contemporary spa like effect.
Update the bathroom to a spa like retreat when competing with new or updated homes in same price range.  Installing salon drawers to hide hair driers and appliances that stay plugged but hidden; linear drains that blend into shower floors, and heated floors that takes away the morning chill, may provide a seller's edge.
Conjure thoughts of relaxation and solitude with an extravagant stand-alone soaker like the  Designer Bathtub above.  Buyers inspect a homes components that focus on home quality and appearance.
The aging homebuyer, looks for comfort and style when when deciding which home to buy.  Adopting low maintenance, shower benches, no-step showers, comfort-height toilets and vanities allow one to enjoy their home as they age.
Cost vs. Value Report shows wise invesment opportunity when updating the bathroom.  Employing a few ideas into your make-over will give a competitive edge, and the look and feel of a spa like retreat.
How to Update the Bathroom To A Spa Like Retreat – Get the look:
This faucet is sleek in appearance and rich in quality, style and contemporary design. chrome finished for endurance and easier cleaning.
The meticulous curves, unique angles and mirror-like polished surfaces of fluid™ faucets are unmatched. You can check out these two Bathroom Faucets here.
The expanse of opal glass appears all the more smooth in contrast to its deeplt textured base adding a memorable detail to the handsome wall sconce.  Several finishes to choose from.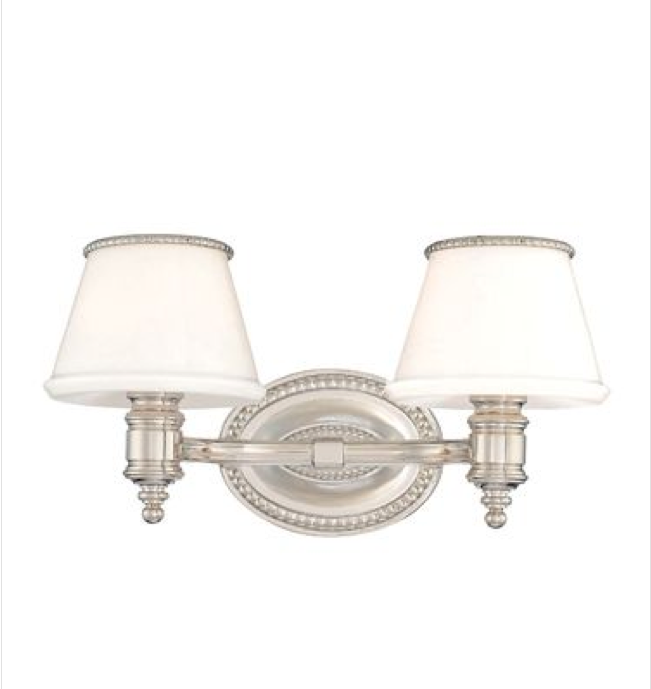 Closest match I could find but it is ever so delightful still the same.  More on the tradition side when fixtures showed more like gas lamps.  Great detail.  
What I like about Shop 1800Lighting.com is they are consistantly running specials and they have tons to choose from.