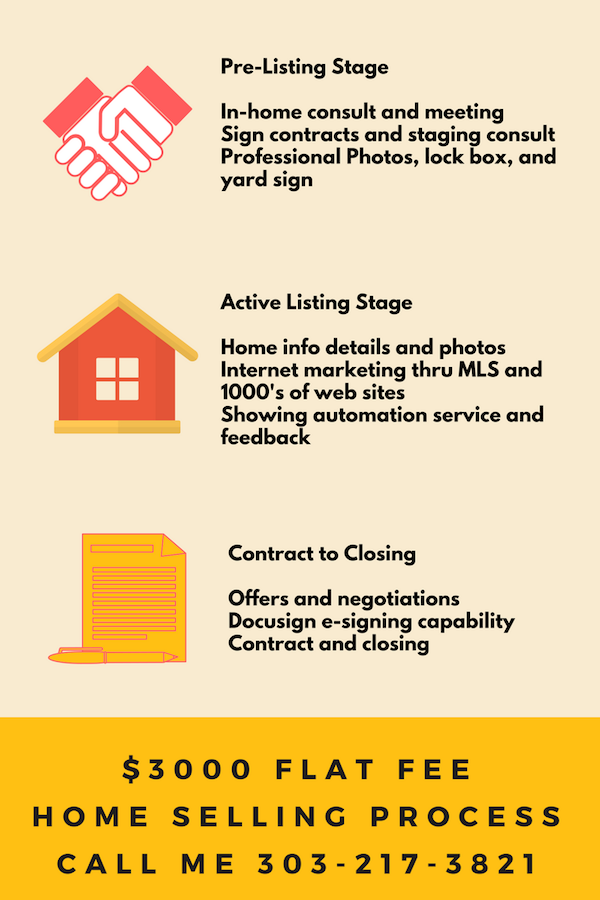 $3000 Flat Fee Real Estate Denver
I'm a home staging pro plus a Real Estate licensed Broker Associate with Redefy Real Estate, providing a $3000 flat fee, full brokerage services, to home sellers throughout the Denver Colorado area.
Saving money, preserving equity, and returning the savings to you is a priority when it comes time to sell.  The $3000 flat fee includes all the services that you would get with a traditional brokerage company.
In-home consultation
Professional photos
Yard signs
Lock box
Scheduling of showings
Marketing and Advertising on thousands of websites like Realtor.com, Trulia and Zillow.
We take care of your homes for sale marketing exposure to the 92% of the home buyers who are shopping online.  Every step of the way we are there to help you understand home inspections, contracts, negotiating offers and getting you to closing.
A typical brokerage would charge 3% commission for the same services.  For example, home selling for $400,000 would cost $12,000.  When you work with me and the team at Redefy Real Estate we provide the same service for only $3000.  What that means to you when you work with us is a $9000 savings keeping the equity in our pocket where it belongs.  At Redefy Real Estate, we are changing the way homes are sold.
Calculate the savings you will benefit from with our $3000 flat fee, full-service model, opposed to a traditional real estate commission by clicking here.
Let me help you replace the high-commission of traditional real estate brokerages, with an efficient, team approach, that provides full service for only $3000.