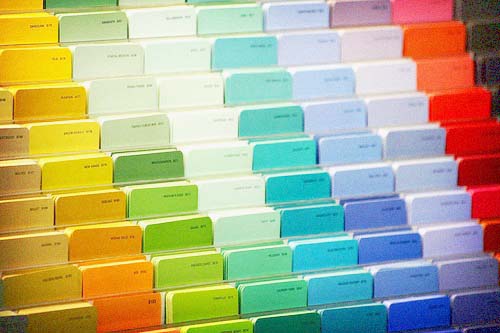 Often when doing a home staging consultation in an owner occupied house that will be for sale on the market (not new construction), I reccommend to clients that they paint their walls.  Trust me, I don't think that people like to paint. I almost always hear loud groans.  So, if the home seller is groaning when I recommend  a new paint color, you can bet your bottom dollar that so will potential home buyers, if they think they will have to paint when they move into their new home (I think that is the last thing they want to do after moving, right?).
When home staging, a new color may be recommended if:  the paint color needs to be updated, or the client has bold paint color and/or dark paint color that may not appeal to the broadest range of potential buyers.  Not mention should paint be needed due to dents, dings and holes.
For a home seller it can be overwhelming to select a paint color that will appeal to a broad range of potential buyers.  Following I will share top color trends that are being seen in today's model homes as well as newly constructed homes.
Gray. There are alot of ways you can go with gray, a whole new group of grays with warm brown based tones to a contemporary cool gray and blue-gray.
Warm whites like Swiss Coffee CW-W3 or Antique White CW-W7 look great on trim when accented with neutrals such as Stormy Weather CW-C7, a pale gray, from Clark and Kensington from Ace Hardware.


Beige. Rich, warm, wonderful beige.  A standby staple seen year in and year out.  Think Benjamin Moore Clay Beige OC-11 (seen below in the large swatch).


Champagne. A sophisticated color that looks wonderful with darker espresso woods.

Clark+Kensington from Ace Hardware Golden Ticket 19B-4 that is trending add warmth to open concept living spaces when added to the walls in the living room, kitchen or hallways  a golden honey shade that is very livable.
White. I love white on doors, trim, ceilings, towels, sheets, bedding, toilets, sinks, tubs and accessories.  I love my white appliances in my home (I know, I haven't updated but that is ok, I'm not selling).    Although white is making a comeback I feel that it is sterile and harsh on the peepers.  All white walls is like walking through a sunny, snow filled field, it is ergonomically hard on the eyes.  That is my opion and I'm sticking with it.
The following jewel tone paint colors, I would use in accessories, artwork, bedding, pillows throws and towels, as bold colors can be overwhelming for the faint of heart and may not appeal to the majority of buyers.
Cobalt, Emerald, Purple, Raspberry, Paprika and Metallics. 
Good news for all of you folks who aren't selling….the sky is the limit, make your house a home by surrounding yourself with the colors you love (you only have yourself to please).
If you find this information helpful, please make sure to like and share with your friends and family.